Large production capacity.
Advanced production and inspection equipments.
High quality with competitive price.
A lot of kinds machinery castings are available.
Customer's samples and drawing are accepted.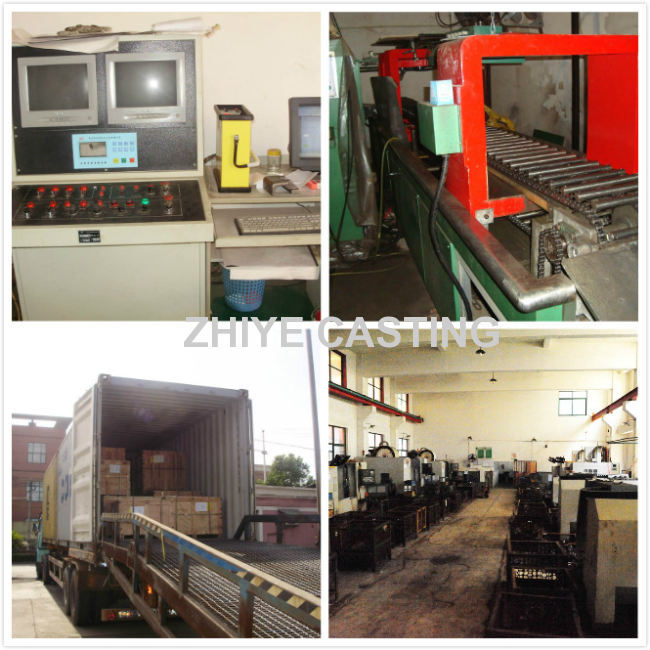 Description:
1.Lost foam casting(EPC process)
2.Perfect facilities
3.Has established efficient technical system
4.Usage: Machinery equipment
5.Large casting (for example large plate) could be produced
Our company can provide many kinks of casting especially producing large carbon steel and small ductile iron according to the customer's drawing and requirements. If you could send us details drawings, specifications, quality requirements and actual samples we will do our best to service you with high quality products and competitive price.
We know quality is the fundamental, so we focus on quality control and try to make improvement continuously. During each production procedure, we will inspect the hardness and dimensions to ensure every product could meet customer's requirement.
If you interested in our product please contact us. We will reply you as soon as possible.
Material:ductile iron
Measurement:112x123mm
Weight:18.5kg
OEM service: provide
Place of origin: Ningbo Zhejiang China
Lost foam casting production process
1.Purchasing material "EPS STMMA"
2.Bubble pretest
3.Foam-molding
4.Mold of drying
5.Painting
6.Composite pattern
7.Drying
8.Into the sand box for molding
9.Vibration of sad box for making the sad compaction
10.melting
11.pouring
12.mold turnover
13.cleaning and polishing
14.heat treatment
15.test
16.packing
This casting is very difficult to make. We have tried many times to improve. The internal structure of the product is very complicate. The test samples are always adhering sand.
Test samples as below,

After half a month of testing, the excellent samples are appear.